Denise began her career as an art director, working in New York with Warner Bros. and Disney after graduating with a degree in Graphic Design and Marketing from Drexel University. She landed in New York City, making many trips to California meeting with licensors, such as Disney and Warner Bros. She began her own successful design consulting business once she and her husband moved to Connecticut.
As she spent more and more time in New York, in the fashion industry she began designing handbags with beading and met the finest vendors and factories from around the world. Her love of natural stones and beading took over her heart. She began creating philanthropic designs that spoke to different causes and raised monies for her different passions.
"The ability to touch people's lives sparked something life changing," Cox remembers. "To create something that moves a person, raises money, and is beautiful, is what evoked my passion and purpose for designing jewelry."
Her love of travel began to influence her designs, "The more places I travelled to, the more my passion began to grow and blossom. I love the art of relationships, connecting with others on their journey, it's the most powerful part of what I do."
After her husband passed away, she realized that transparency of one's story could really make a difference in the world. She began sharing her own story with others. Little did she know that this would enable her to heal, help others and continue creating her jewelry with purpose and meaning. She feels blessed everyday to have the courage to share and create something that helps others find their own purpose.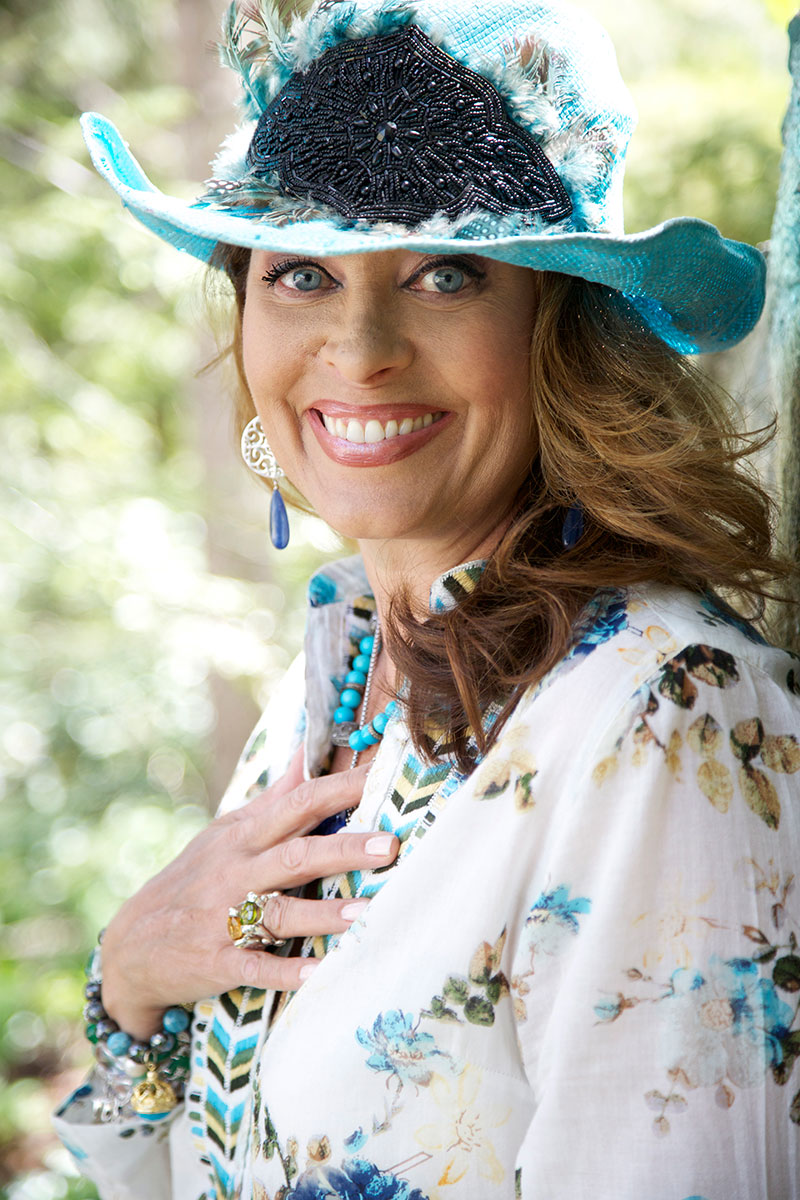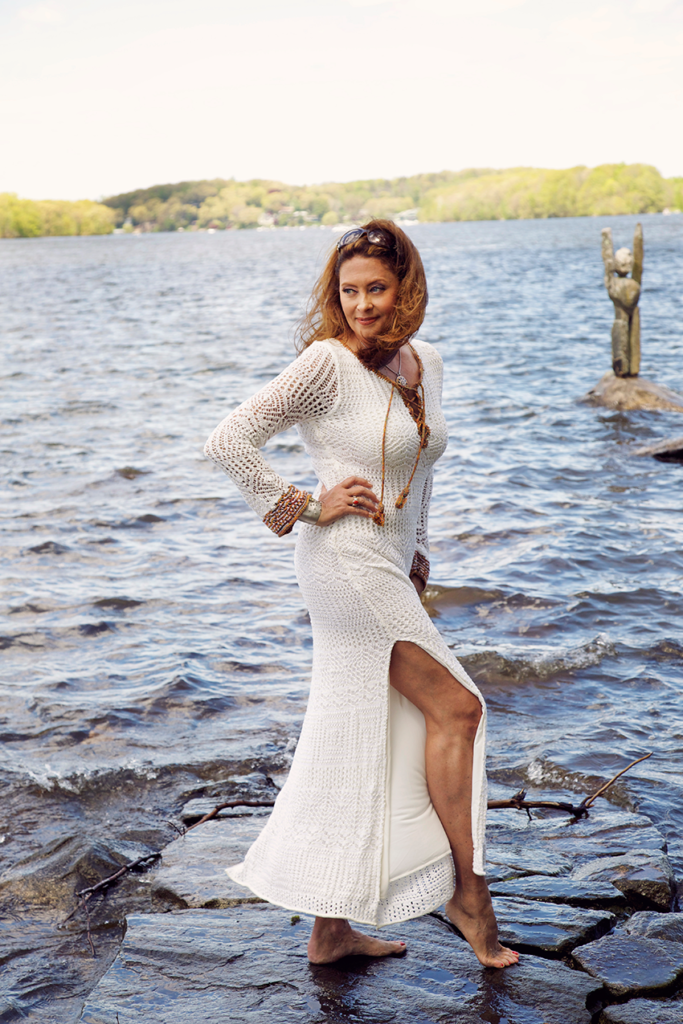 Denise invests extraordinary effort to ensure that her pieces are crafted in the tradition of the great fine jewelry houses; each mold is hand-made by an accomplished artisan, and stones are set with precision and care. Every detail has been considered, including functionality and durability, so that it can be worn comfortably for many years to come.
Denise Cox Designs reflect the artist's craft, but ultimately compliment the personal style of the wearer. Each piece has a history, and tells a story. Once chosen, once worn, the story is yours…
Relationships are the most important thing to me in life.  
I grew up in Media, P.A. an outdoors-kind-of girl, with a little sister that never left my side, we were the best of friends, always creating our own simple fun. I was always taking the fall, always getting caught for our mischiefs, that didn't work out so well.  But I suspect certain things are written in our stars. Like the themes that play out over and over in our lives. 
Artist/Creative is one of my themes.  And Loss. Hard work. Being in service to others.  Resilience. Leading by example. Compassion with open arms and helping hands.  Living my life on purpose.
Each one of my themes has been a significant player in my life, redirecting my path or keeping me on-course.  Opening my heart even wider, and teaching me how to live my fullest self. Every experience or person came with a lesson and a stepping stone to aid me in my purpose.  
From my dear "Dad," I learned about putting your head down and working hard to accomplish things both big and small.  He taught me: "Always say and do what you mean"–which gave me the gift of authenticity and truth with people.  
And Pops was also the one who taught me the thrill of being an aggressive driver 😉  Years later, I would meet–and impress–my race-car driving husband.  A link in the chain of my life.
Maxine was not only the embodiment of elegance, class and attention to detail, she was also my grandmother. She would say to me, "Denise, always put your best self forward, put together… all by example as she sat so composed, jewelry, shoes, hat & bag all matching." She inspired fashion, design, and absolute poise in me from an early age, which led to my becoming Ms. Teen Pennsylvania 2nd-Runner-up, modeling in NYC at age of 17, and graduating in the brand new field of online Graphic Design and Marketing at Drexel University.  
It's interesting that I had no fear emerging on the New York scene in 1991.  I knew it was my city–the land of "design" and the headquarters of "being someone." I was turned on by the energy of NYC every day, experiencing my highest high and my lowest low.
I believe it was my confidence from my upbringing, strong morals, earning the Gold Award in Girl Scouts and from modeling, along with my cutting edge background in graphic design, that brought Disney and Warner Brothers to hire me–and then promote me to Art Director at age 23.  My life was on a fast-track course for success.
Then the accident happened.  My friend and I had carefully stopped to help a man on the who had crashed–a DUI.  With police already on the scene, a freak chain-reaction caused my face to be hit by another car.  I nearly died.  My face had to be reconstructed.  It took me 3 months to recover, and 7 more months to start over.  My life changed forever.  
It seems cars have always been a part of my destiny.
Three years later, I met Spencer.  My love affair with Spencer Cox is legend.  We built and lost and rebuilt businesses.  We traveled the world.  We adopted our daughter, Marta, and brought home Heather, his daughter from a previous relationship.  His business at last became an explosive success, and we were finally able to finish dreams we had started long before. We were always one another's 'rock,' raising two girls with attachment issues.  And though our marriage was not always easy, together we figured it out.  
It was in my 30s that I took my art in a new direction and began designing fine jewelry.  In 2005, I was discovered by curator Phyllis Magidson in Wilton, CT through my one-of-a-kind pieces at an artisan show.
Phyllis introduced me to the Museum of the City of New York where she curated the unique eclectic collections of fashion and jewelry created by New Yorkers. She introduced me to them, and with her white gloves on, she revealed the exceptional jewelry designs of Miriam Haskell, 1899-1981, whose use of materials and color were pivotal from the 1920s through the 1960s.  Then she told me, "Denise, you are a 21st-century Miriam Haskell!"
This key relationship pushed me at a crucial time to create what would become my Purpose line.  From there, I passionately expanded as a fine jewelry designer, conceiving of and developing my Unity line.

Denise Cox Designs was born.
Phyllis continued to follow the evolution of my work, and eventually was instrumental in bringing my signature Purpose Collection into the museum Gift Shop, thereby continuing the museum's mission to introduce NY artists and designers.
In 2017, by commission from MCNY, I designed Light: a collection inspired by the iconic museum.  It was completed and on display for purchase in early 2019.
This was only a few months after my mother bravely passed away after fighting with unspeakable grace, her 9-year battle with lung cancer.  
It was from my mom, 'Micki,' that I learned what a strong woman is–and to be one.  Through her fight, she taught me the power of forgiveness, not to people-please, and to be true to myself first.  
This served me very well and I finally understand:  After my lifetime of serving everyone and putting others before myself, she showed me I must love myself first, and to love being alone with myself. This was the hardest lesson.  
One of the greatest gifts of my life was to be a caregiver to my mom.  To just sit with her in silence–we knew what each other was thinking. Right before she took her last breath, she looked heaven-ward and said "I love you, I love you, I love you," looking into the divine light.  My mother went to heaven on October 30, 2018.
Spencer was diagnosed with pancreatic cancer 15 days before my mother passed. To this day, it is still unbelievable to me.  Thirteen short months later, on November 24, 2019, my beloved Spencer passed too.
He taught me so much about love, about hard work, to never give up, and to stay true to who I am no matter who disagreed with me.  We learned, explored, and risked so much together that it's hard to let go of that amazing life–a life I was and am so in love with.  An incredible life…  I only wish he was with me to enjoy it now.  
In the moments when I miss him so much, I am thankful for all of our hard times. They made us stronger together.  As we grew into the people we are, so did our respect and love.
In the year after Spencer's death, my Harmony line was born.  In every loss there is a gift, in every death a new birth.  We are born out of every experience, every person, every circumstance–a new beginning.  I say, don't hesitate to meet your new beginnings.  Our loves and our lessons are alive inside of us, and our purpose is always calling us forward.  Our gift is to answer it.